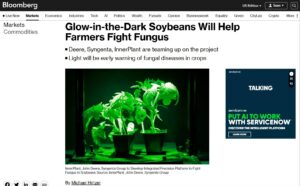 (From Bloomberg – click here for original coverage)
Two of the world's biggest farm companies are collaborating for the first time in an effort to stomp out fungal diseases in crops. Their new innovation will mean that plants will be genetically engineered to emit a fluorescent light, warning of the fungi invaders.
Deere & Co., the top farm machinery maker, is teaming up with seed producer Syngenta AG and seed startup InnerPlant on the project. Deere's See & Spray technology can detect the fluorescent light, and then the plants can be treated with a Syngenta fungicide designed for early applications. All this will be designed to take place weeks before the disease potential would've been detected by the human eye.
In the US, about 11% of crops are lost to fungal diseases, according to Shely Aronov, the chief executive officer and a cofounder of InnerPlant.
"The idea is to help farmers fight the losses to pathogens," Aronov said in an interview.
Detecting issues before they can be seen by the human eye can be a huge advantage. "When the disease is less developed, there's a lot more opportunity to act on it in a different and more optimized way," Aronov said.
While the companies said the technology can be adapted to other crops, they're starting with soybeans — which trails only corn in the amount of planted acres in the US. The first plants are expected to be in fields next year, but it's unknown when the technology will be sold commercially to farmers.
"We're hoping that we'll be able to help farmers maximize the yield by being targeted in the use of chemistry," said Feroz Sheikh, chief information and digital officer at Sygenta, the Swiss seed and chemical company controlled by China National Chemical Corp.
It's part of so-called precision agriculture, which aims to reduce the use of crop inputs such as fertilizer and fungicides by applying them only where they're needed.
"It's one more signal for us to detect and ultimately apply less crop protection products to the right spot in the field and help customers or farmers do more with less," said Dan Leibfried, Deere's director of corn and soybean production systems.